Our School & Team
September 2019
We are a large Primary School situated in central Bracknell, Berkshire.
We have wonderful learners and a community and team, dedicated to giving the children the best learning experiences that they can, for the best learning outcomes. Care, safety and enjoyment are very important to us.
We have a new Head Teacher and leadership team passionate about, and dedicated to, leading the development of the school to Ofsted 'Good' and beyond.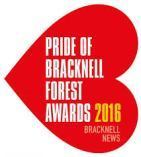 We are very proud to be 'School of the Year' runner up in 2016.
Leadership Team
Head Teacher: Mr Neil Davies.

Associate/Deputy Head: Miss Samantha Morrissy

School Business Manager: Mrs Nicola Down

Inclusion Lead: Mrs Caroline Kelly

Early Years Phase Leader: Mrs Clare Stacey

Key Stage 1 Phase Leader: Mrs Tensa Campbell

Year 3 Lead: Mrs Emma Poffley

Year 4 Lead: Mrs Rhian Andrews

Year 5 Lead: Mrs Victoria Ranft

Year 6 Lead: Mrs Kendal Bekker
Pupil Leadership Team
Head Girl - Jemima P

Head Boy - Kade d S

Deputy Head Girl - Evie G

Deputy Head Boy - Oliver T
Prefects
Phoebe K

Jasmine U-H

Scarlett H

Chantelle D

Max F

Sam O

Hari C

Veer B
Teaching Staff
Nursery
Puffins – Mrs Clare Stacey
Reception
Caterpillars – Miss Remy Eastwood

Ladybirds – Mrs Sara Liddell / Mrs Natalie Doyle
Year 1
Hedgehogs – Miss Kat Allen

Rabbits – Mrs Katie Wade / Mrs Laura Starbuck
Year 2
Hummingbirds - Mrs Tensa Campbell

Kingfishers – Mrs Veronika Baliukoniene

Toucans - Miss Emma Crinnion
Year 3
Robins – Mrs Emma Poffley

Swifts – Miss Kirsty Martin
Year 4
Badgers – Mrs Rhian Andrews / Mrs Rachel Emmett

Hares – Mrs Kirsten Strydom

Otters – Miss Stephanie Barnwell / Mrs Rachel Emmett
Year 5
Giraffes – Mrs Jane Waters

Zebras – Mrs Victoria Ranft

Meerkats - Mrs Terry-Lee Oliver
Year 6
Turtles – Mrs Kendal Bekker

Penguins – Mrs Mel Poxon

Dolphins- Miss Amy Jones
Other Teachers
MFL- German- Mrs Emily Marshall

Maternity leave - Miss Rebecca Graham
HLTAs
Mrs Lorraine Clark

Mrs Lisa Kelley

Mrs Kerry Orr
Teaching Assistants
Nursery Team:
Ms Yvonne Dulieu

Ms Jill Pegler

Mrs Louise Whitehead
Reception Team:
Mrs Sian Jones

Mrs Abigail McLean

Mrs Cassie Garner

Mrs Laura Jones
Key Stage 1 Team:
Mrs Nicola Rule-Barnard

Mrs Diane Woods

Mrs Lea-Anne Bray

Miss Laura Knightley

Mrs Donna Baker

Miss Megan Cheeseman
Key Stage 2 :
Mrs Mandy Prichard

Mrs Sue Westwood

Mrs Louise Whitehead

Mrs Stacey Gray

Mrs Emma Lovell

Mrs Dee Biggins

Mrs Teri-lee Artman

Mrs Vickie Thompson

Ms Sam Madigan

Mrs Theresa Beasley

Mrs Alison Goddard

Mrs Claudia Parnham

Mrs Helen Spencer
Support Staff
Family Support Partners: Mrs Sue Wardle & Mrs Annette Borg

Assistant Business Manager: Mrs Denise Griffiths

School Secretary: Miss Donna Day

Attendance Officer: Mrs Lesley Wilson

Receptionist: Mrs Nicola Pheasey & Mrs Sarah Gillings

Site Manager: Mr Graham Hyman

Maintenance and Security Operative: Ms Mandy Prince

Clerk to Governors: Mrs Susan Barrett
Lunchtime Controllers
Mrs Chris Webb

Mr David Blackburne

Mrs Dee Biggins